I am actually incredibly pleased with how much I read this month. I read a lot more than I planned on and picked up some really great books!
I also really enjoyed what I read this month. I only had one really "disappointing" read and even that wasn't terrible and I've been reading a graphic novel series that I'm not that into. But other than that, everything was fantastic.
I completely forgot that Booktubeathon was taking place this month and I ended up compiling a TBR and participating last minute. I am so glad that I participated. It pushed me to read a lot and brought my monthly total up substantially. Plus, I had to redeem myself from how badly I failed last year 😂
Let's start talking about what I read this month!
---
 The first thing I read this month was, Saga issue #43 by Brian K. Vaughn and Fiona Staples.
This is the first issue of what will be the eighth volume of this comic. This is my favorite comic series and I will continue to read it for as long as it continues to be released. I love it so much even if it does depress me. This wasn't the best issue, it was kind of a slow start but it is the first issue in a new volume so it's understandable. I'm really saddened by what's taking place in the story right now and I hope that it gets better very fast.
I gave this comic:
/5 stars
---
Then, I picked up the absolute masterpiece that is, Lord of Shadows by Cassandra Clare.
I loved it so much. This is now my second favorite Shadowhunter book, only topped by Clockwork Princess. It was absolutely amazing. Beautiful and heartbreaking and so, so magical. Cassandra Clare really out did herself with this one and I'm in love with it. My heart is shattered. But that's alright. I'll be okay. IF ONLY I DIDN'T HAVE TO WAIT LITERALLY FOREVER TO SEE HOW IT ALL WRAPS UP! UGHHHHHHHHHH
This was my favorite read of the month!
I gave this book:
/5 stars (of course)
If you'd like to read my review for Lord of Shadows, click HERE!
---
Then, the Booktubeathon started!!
The first book that I read for the readathon was, Peaches by Jodi Lynn Anderson.
I was so excited to read this. I picked it up just because of Jodi Lynn Anderson. She wrote one of my absolute favorite books, Tiger Lily so I've been wanting to read the other things that she has written in hopes that I'd love them just as much. Though this wasn't on the same level for me as Tiger Lily, it was still very good. I loved the characters, the premise, the setting and once again, Jodi Lynn Andersons writing really stood out to me. It was a very cute and enjoyable read.
This ended up counting for the sixth challenge, which was to read a book you bought because of the cover. Now, I'm sure you're looking at the picture above and wondering why that is so I'm going to explain myself a little bit; I really wanted the hardcover editions for this book so that the covers would look great together and would match. Therefore, I bought this specific book because of the cover.
I gave this book:
/5 stars
If you'd like to read my review of Peaches, click HERE!
---
Then, I picked up the second book in the Peaches trilogy, The Secrets of Peaches.
This was the book that kind of let me down. I was really excited to continue the series because of how much I loved and enjoyed the first one and this just wasn't as good. It lacked all of the things I loved about the first book and honestly, if it weren't for the names telling me that these characters were the same people, I'd tell you that they weren't apart of the same series at all. I didn't really like it. The characters that I had come to love disappointed me and overall, it just wasn't as enjoyable of a read. It wasn't a terrible book but when I compared it to the first, I just felt let down.
Although I read this during the readathon, it didn't count towards any challenges. I read it because it helps me to read small duologies or trilogies during readathons because I don't have to worry about jumping from world to world as much and once I'm into a series I find it very hard to put it down.
I gave this book:
/5 stars
---
And then, I finished off the Peaches trilogy with the final book, Love and Peaches.
Even though the second book disappointed me, I tried not to go into this with a negative attitude because I did really love the first one and I wanted to give this a fair shot. And I'm glad I did. This one wasn't as good as the first but didn't let me down like the second. I was happy with our characters again and loved where the story went and it brought back a lot of what I loved so much in book one that I missed in book two. It was a little predictable and was a shorter than the other two but it was a great conclusion to the series and I was really happy with where our characters ended up.
I'm counting this one for challenge number 3 which was to finish a book in a day. I actually have a few books that could've counted for this challenge BUT when I read this one I forced myself to push through and finish it in a day because I wanted to tick this challenge off.
I gave this book:
/5 stars
---
After that, I decided I wanted to pick up a short and easy read, which was Scott Pilgrim Volume 3, Scott Pilgrim and the Infinite Sadness by Bryan Lee O'Malley.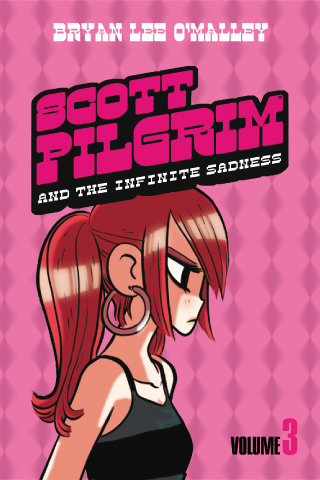 I've come to the conclusion that this series just isn't my thing. It's really not bad but I just don't like it. I enjoy reading them between books as a sort of diffuser to help me take a bit of a break before picking up another novel but that's all it does for me. I find it hard to follow the story and to differentiate between characters. I always have to really push myself through the last quarter or so of the book because at that point I'm bored and lost. I wish I liked them more, I know lot's of people do and I see why, it's just truly not my cup of tea.
This ended up counting for not only one challenge, but two challenges. Which was challenge 1, read a book with a person on the cover. And, challenge 4, read a book about a character that is very different from you BECAUSE, for one, I'm not Canadian and secondly, I'm not a drawn character and thirdly, my world is in color. All are valid reasons and therefore I count it for the challenge.
I gave this book:
/5 stars
---
Then, the book order I was waiting on finally arrived. BUT, it came at nearly 5:30 pm on Saturday. Which didn't leave me a lot of time to read the books I was waiting for the entire week. But, I immediately started reading the book I was most excited for in that order, which was  An Illustrated History of Notable Shadowhunters and Denizens of Downworld by Cassandra Clare and illustrated by Cassandra Jean.
This was SO STUNNING AND BEAUTIFUL. I loved it so much I am so happy that I bought it. Every fan of this series should own it. It made me so happy. I enjoyed all of the little bios and I learned some new things about my favorite characters. And above all, the artwork was jaw dropping. This is one of the most gorgeous books I have ever seen and I loved it. I finished it within an hour and loved every page. My only complaint is that I really, really wish that Kit was in it seeing as he is one of my favorite characters.
I'm counting this towards challenge number 5, read a book completely outdoors. I chose this for this challenge just because it was short to be completely honest with you guys. I don't like to go outside, especially in the summer, and I really don't like to read outside. I must have the favorite blood type of mosquitos; they are drawn to me like a magnet and therefore anything I do outside kinda sucks. But I did it, I completed the challenge. This also counted for challenge number 2, read a hyped book. Anything surrounding Cassandra Clare and the Shadowhunter world is incredibly hyped and this was no exception.
I gave this book:
/5 stars
---
After that, I picked up Love is the Higher Law by David Levithan.
I bought this just because it was written by David Levithan. I knew nothing about it when I picked it up and bought it. The edition I bought didn't have a synopsis on it, this was a complete author buy. But, I am so glad that I picked this up and honestly I'm really glad that I didn't know anything about it going into it. If I really paid attention to the cover and thought about it, I could've figured out that this was a 9/11 book but I didn't and went in oblivious. This was a really great book and I'm glad I read it. I didn't expect to be so invested in it; I read it in one sitting and loved it.
This book didn't count towards any challenges, I picked it up during the readathon just because it was the end of day 6 and I wanted to bump up both the number of books read and my page count. I knew I could finish this quickly because it was under 200 pages and it ended up being the perfect thing to read during a readathon and I ended up really loving it as well.
I gave this book:
/5 stars
If you'd like to read my Goodreads review for this book, click HERE!
---
And that brings me to the final book, Juniper Lemon's Happiness Index by Julie Israel.
I haven't finished this book yet, but I am 30 pages in and those 30 pages were read before the readathon ended so I wanted to mention it. I'm really sad that I didn't get this read during the readathon because it was the Booktubeathon "book club" pick. But sadly, it just didn't arrive in time for me to finish it before the readathon ended. If I hadn't had such a busy day Sunday and had had the time to read it then I may have come close, but I know I wouldn't have finished it. I was reading this for the challenge of reading seven books, which was the only challenge I didn't complete.
---
In conclusion, I read 1 comic, 1 graphic novel, 6 books and got 30 pages into a seventh. I'm very pleased with how much I read and although I didn't quite succeed my readathon goals, I came really, really close.
Complete monthly page count: 2,216
Complete readathon page count: 1,486
---
And that's everything I read in July!!
I'd love to know everything you read this month! How many books did you finish? How many pages did you read? What was your favorite book that you read this month? Did you pick up any graphic novels or comics? Did you participate in any readathons? Leave a comment and let me know!!
---
Thank you so much for reading and I hope you keep visiting!!
Follow me!